PLA@93
an A-Rated School Offering Grades K-6
Now Enrolling K-6 Families in Indianapolis
Return to Headlines
Phalen Leadership Academies Receives $250,000 from Glick Philanthropies
Phalen Leadership Academies received a $250,000 grant from Glick Philanthropies to support the Sean Cowdrey Health and Wellness Complex. Glick Philanthropies is a family of charitable initiatives, programs and organizations focused on building community and creating opportunity.
This generous gift from Glick Philanthropies will support the development of the Sean Cowdrey Health and Wellness Complex on Indy's Far Eastside. The Cowdrey Complex, is an initiative of Phalen Leadership Academies ("PLA"), and was created in response to violence in the surrounding areas and PLA's desire to create more safe spaces for its students and families. It will host a preschool, daycare, STEAM programming for youth, sports programs for children and adults, and house PLA's free adult job training program, PLA University.
PLA has been on a mission to fulfill the desperate need for safe facilities, and the need for enriching programming to support their scholars, families, and community members. The goal is to create more safe space for our scholars and the community on the Far Eastside.
"Glick Philanthropies has been a friend and partner of PLA since its inception," said Earl Martin Phalen, PLA Founder & CEO. We truly could not do this work and have the level of impact we strive for without their guidance and generosity. They have had such a profound impact on the Far Eastside community. We're honored that they trust us at PLA to help them continue to build on that impact."
Along with PLA's newly launched Arts & Cultural Center, The Cowdrey Complex, will be a wonderful addition to the Far Eastside community creating hubs for scholars and community engagement.
About Phalen Leadership Academies: Phalen Leadership Academies is a nonprofit school management organization with over 25 schools across the country in Indiana, Ohio, Texas, Alabama, Michigan and Washington D.C.
For more information about Phalen Leadership Academies (PLA) and its dedication to shaping scholars everywhere, please visit https://www.phalenacademies.org/or to donate in support of Phalen's efforts, visit DonatePLA.org
For more information about Glick Philanthropies, visit glickphilanthropies.org.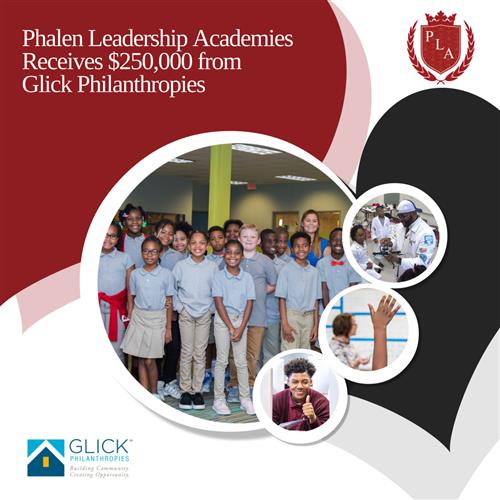 You're online. We're online. Let's connect.