PLA@103
an A-Rated School Offering Grades K-6
Return to Headlines
PLA@103 Hosts Summer Advantage
Summer Advantage USA is busy in Indy working with over 100 youth teaching summer enrichment, STEM, and community service.
The program is hosted at PLA@103 and kicked off last week-- just as the Mayor of Indianapolis announced his focus on keeping youth safe over the summer.
At Summer Advantage over 100 scholars are enrolled and welcomed each morning with a nutritious breakfast. After breakfast, they break into class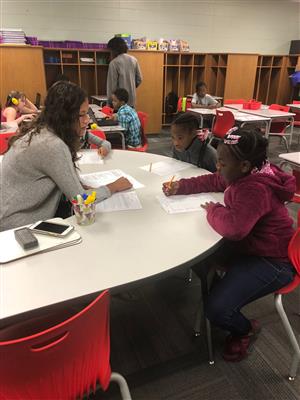 clusters where they spend the morning working on improving their literacy and math skills. Each class is staffed with both a lead teacher and a teacher's assistant allowing scholars to work in small groups to support differentiated instruction. Scholars transition from morning academics to lunch and then active recess. Afterwards, scholars participate in engaging enrichment classes including dance, African drumming, acting, STEM, art history and hip-hop.
"Summer Advantage is a program really designed to support the youth of Indianapolis in making and maintaining educational gains throughout the summer," says Summer Advantage USA Director, Amber Deckard. "We want to keep our students active in positive ways. Phalen Leadership Academies is there throughout the school year; and over the summer the students have us. We continue to help them maximize their potential through learning, positive experiences, and character development."

Before the program ends students will complete various community service projects, pay a visit to Indiana's Children's Museum and spend time learning about college and career choices.

Summer Advantage is an award-winning national non-profit organization providing elementary and middle school students with research-based summer learning programs focused on academic gains. The program runs at PLA@103 in Indianapolis from June 18th- July 13th.

*****
About Summer Advantage: Recognized by TIME Magazine and the White House initiative United We Serve, Summer Advantage USA is impacting student and school district performance. SA partners with schools and school districts to provide scientifically proven, cost efficient summer learning programs for youth.
You're online. We're online. Let's connect.