PLA@103
an A-Rated School Offering Grades K-6
Return to Headlines
Join us for the 2nd Annual Empty Bowls Art Show on March 11
For the second consecutive year, Phalen Leadership Academies at 103 (PLA@103), will host their Empty Bowls Art Event to help fight local hunger. The art show will take place on March 11th, 2020 from 1-5 pm and help raise money for Gleaners Food Bank of Indiana. Empty Bowls is an international project to fight hunger, personalized by schools, artists and art organizations on a community level.
PLA@103 scholars, staff, families, and the community are invited to help support the local community by purchasing a scholar-made bowl with a suggested donation price of $5 (cash only) per bowl. Additional donations will be accepted. All proceeds will be donated to the Gleaners Food Bank of Indiana.
"We are proud to give our scholars a hands-on opportunity to contribute to ending hunger and 'fill someone's bowl' in our local community," said Ms. Janine Shafer, PLA Art Teacher.
The event will also include a Stone-Soup Young Actors Theatre performance at 2 pm and light refreshments provided by the PLA@103 Parent Teacher Organization.
Gleaners was founded in 1980, and is a member of Feeding America, the nation's food bank network. Since its inception, Gleaners has distributed over 360 million pounds of food and critical grocery products to nearly 600 hunger relief agencies and partners serving needy Hoosiers.
The Empty Bowls artwork will be on display and available for purchase until March 31st, 2019.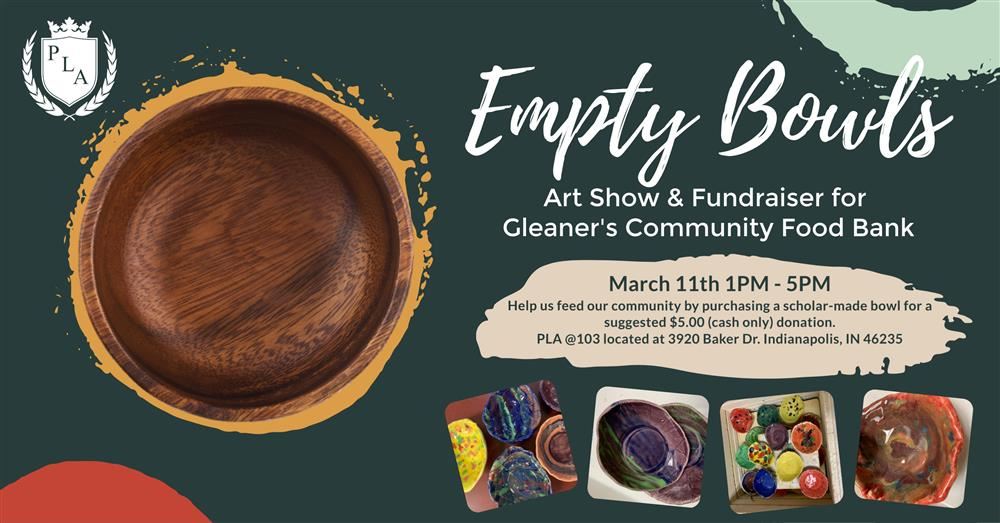 You're online. We're online. Let's connect.