PLA@103
an A-Rated School Offering Grades K-6
Return to Headlines
PLA's Annual Empty Bowls Fundraiser Goes Virtual: Join Us!
PLA@103 is proud to partner with Gleaners Community Food Bank for our annual K-6 Scholar Empty Bowls Arts Show and community fundraiser. The event takes place virtually this year and will be held March 8th through March 19th. Each year during National Youth Art Month, we host Empty Bowls to give all our scholars an opportunity to use their creative minds while also giving back to the community.
Parents and family members can join the event any day via Blackboard during their scholar's regularly scheduled art class and will have the opportunity to purchase artwork for a suggested (cash only) donation of $5.00 during the entire month of March.
All donations will go to the local Gleaners Community Food Bank and our generous donors will keep the scholar-made ceramic as a token of appreciation and a reminder of your contribution to the community. Donations can be sent to campus with PLA@103 scholars or staff, who will then deliver the donor's artwork and a receipt.
As part of our Hunger Awareness Art Project in February, scholars created two ceramic art pieces; one to take home and one to display at our art show fundraiser. This year's theme is "Together or Apart, We Always Create with Our Hearts" to embody how our scholars have poured their hearts into creating beautiful, hand-made ceramic masterpieces whether on campus in a traditional classroom or at-home attending virtual classes.
Scholars and PLA staff can visit the media center during school hours to admire our scholars' artistic contributions. Due to COVID safety precautions, family and community members must attend online this year.
If you have any questions on how to donate or join, please contact Mrs. Shafer at jshafer@phalenacademies.org.
We hope you'll join us!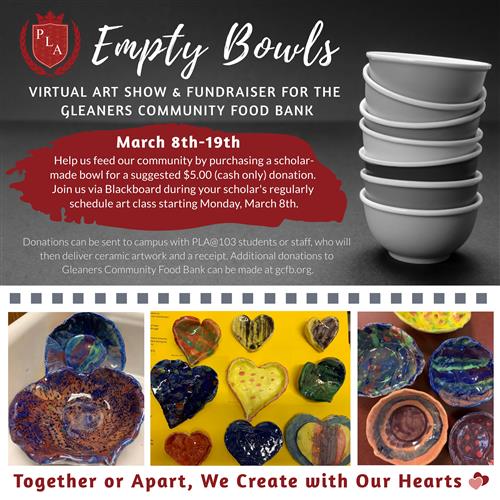 You're online. We're online. Let's connect.