Higher Institute of Arts and Technology
U
Return to Headlines
MTSS: For Scholars Academic and Social Support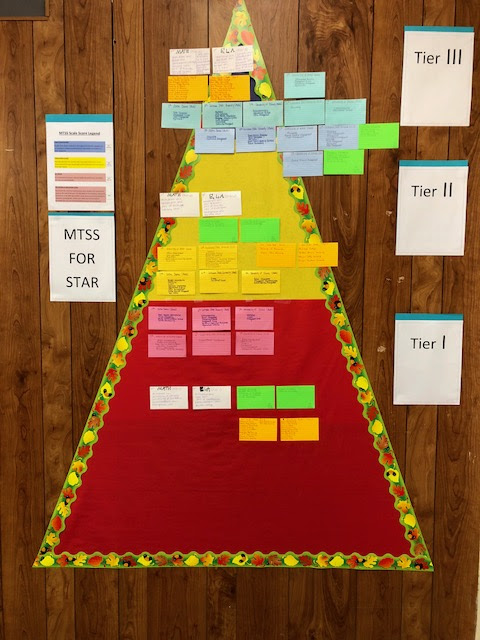 Here at HIAT, we use the MTSS framework to support our scholars academically and socially. We work to find creative ways to combine both MTSS and our STAR data. While collaborating with our teachers, we were able to create a school-wide scoreboard to display the achievement level of our scholar's. When you walk into HIAT, the first thing that stands out is our MTSS poster, which indicates the scholar's achievement results from the B.O.Y. (Beginning of Year) assessment. What's phenomenal about this poster is that we identify the scholar's by Universities or Careers, instead of name. This will be an ongoing practice at HIAT. Our end in mind is to create a culture of College and Career Readiness. We plan on moving scholars from Tier 3 and 2 to Tier 1. By using the 4DX (Four Disciplines of Execution), this will happen.
MTSS Background
MTSS is a framework that many schools use to provide targeted support to struggling students. It focuses on the "whole child." MTSS supports academic growth and achievement, but it also supports many other areas. This includes behavior, social and emotional needs, and absenteeism.
The multi-tiered supports are a huge part of MTSS. These tiers of support increase in intensity from one level to the next. For example, some kids receiving small-group interventions may need to "move up" to one-on-one help.
4DX
The 4DX helps teachers create work plans for scholars. The 4DX uses the following steps:
Step 1. Focus on the wildly Important
Step 2: Act on Lead Measure
Step 3: Keep a Compelling Scoreboard
Step 4: Cadence of Accountability
Step 1
After taking the B.O.Y Star Assessment, scholars and teachers will create personalized goals to meet and exceed in both reading and mathematics.
Step 2
Scholars will progress monitor their performance by tracking their data in their leadership binders. Scholars will know their current achievement level, their end in mind, and steps to meeting and exceeding their goals.
Step 3
Teachers will display scholar's weekly performance class, differentiated group, and individual.
Step 4
Teachers will confer with the leadership team regarding their classrooms progress. Scholars will meet with teachers. Teacher sand scholars will meet with parents to go over each scholar's academic performance. During these meetings, goals will be adjusted based on data trends, strengths, and growth areas.
You're online. We're online. Let's connect.