Thea Bowman Leadership Academies
Enriching Scholars Grades K-12
Return to Headlines
Scholars Shine at National Agriculture Conference: Presenting Research on Soil Microbes and Human Health
Thea Bowman Scholars recently returned from presenting their soil research at the National Minorities in Agriculture, Natural Resources, and Related Sciences (MANRRS) conference in Overland Park, Kansas.
Thea Bowman scholars presented research on soil microbes and their significance in plant and human health alongside undergraduate students, graduate students and industry professionals.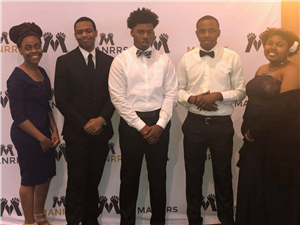 The all-expense paid trip was a reward for scholars who earned first place in the regional competition held earlier this year at Purdue University. Each year, Thea Bowman Scholars conduct research with the help of Purdue college students. Scholars then work to present their findings to judges at a symposium at Purdue University. The winners of this symposium are rewarded with an all-expenses paid trip to the National MANRRS Conference where they go on to present their agriculture research on a national scale.
Thea Bowman Leadership Academy is one of very few schools offering agriculture programs for scholars. The campus has a full farm for students to learn and explore.
Congratulations:
Rhiana Lee
Zharia Smith
George Johnson III
Derrion Moore
Nicolas Washington
Keep Soaring!
About MANRRS: MANRRS stands for Minorities in Agriculture, Natural Resources, and Related Sciences. Their mission is to promote academic and professional advancement by empowering minorities in agriculture, natural resources, and related sciences. It is a national organization with six regions spanning the entire United States and has conferences several times a year to unite all the regions and boost experience with professional environments and relationships among its members.
You're online. We're online. Let's connect.