Thea Bowman Leadership Academies
Enriching Scholars Grades K-12
Return to Headlines
TBLA Middle School Welcomes Ms. Simmons as New Principal
November 15, 2019
Dear Thea Bowman Families,
Thank you for entrusting your scholar(s) to us at Thea Bowman Leadership Academy. Every day we are working to provide our students with the best education possible to prepare them for their futures. With that, we are excited to announce that next week our middle school scholars will welcome a new Principal, Mrs. Marisa Simmons, who will serve K-8.
Mrs. Simmons will take the reins of the middle school, while I hone my focus on the high school (9-12). Mrs. Simmons has been a part of the Thea Bowman Leadership Academy family for over a decade. For many of you, she may not be new as she also serves as principal for our Thea Bowman Elementary School campus. She has done such a wonderful job there, her role and tremendous leadership will now extend to our middle school. This transition will strengthen both of our schools and better align support for our scholars and families.
In this expanded role, Mrs. Simmons will support scholars and families at both Thea Bowman campuses from kindergarten all the way through 8th grade. This provides more synergy in preparing our elementary scholars for middle and high school, and helps us to align more resources for our schools and scholars to support growth in their academic achievement.
In addition to serving our elementary school families, Mrs. Simmons has been a leader in education for the past 18 years. She has taught Pre-K through 7th grade, served as an Instructional Coach, a Test Coordinator, a Special Education Coordinator, Assistant Principal and Principal. We are extremely excited about the level of knowledge and love she will bring to our middle school.
We will soon host a Coffee and Chat with the Principal so that parents can come in and get further acquainted with Mrs. Simmons. If you have any questions in the meantime, please do not hesitate to reach out to me or Mrs. Simmons at 219-944-3100. Mrs. Simmons is also available by email at msimmons@theabowmanacademy.org.
Thank you for all that you do to help support our schools and scholars. We look forward to closing out this calendar year strong.
Sincerely,
Keith Bradford
Principal, Thea Bowman Leadership Academy MS/HS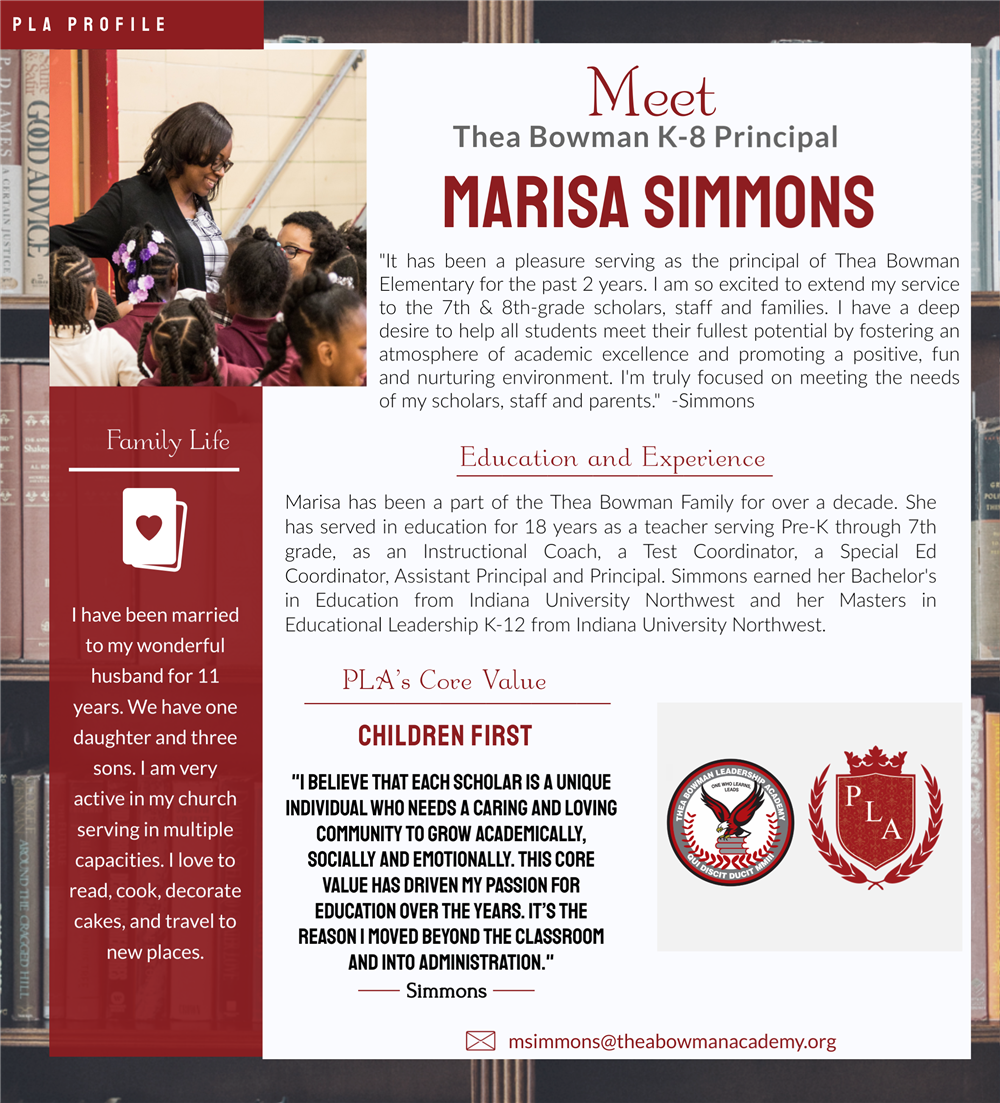 You're online. We're online. Let's connect.