Hope Community Public Charter School
Now Enrolling Grades PK-8th
Now Enrolling PK-8 Families in DC
Return to Headlines
NOW AVAILABLE! Before & After School Care at Hope Community PCS!
Hope Community PCS will now provide before and after care services. The mission of our program is to provide scholars with a balance of social emotional development, academics, and enrichment to ensure that scholars have an environment in which they can extend their learning. Program leaders will place emphasis on virtual enrichment, social emotional development, literacy, mathematics, study skills and homework completion. IMPORTANT: In order for the program to be offered on Hope's campus, a minimum of seventeen (17) families must participate in the program:
https://bit.ly/BeforeandAftercareProgramatHope
Click Here to submit payment online for the Before & After School Care Program
Hope Community PCS ahora brindará servicios de atención antes y después. La misión de nuestro programa es proporcionar a los estudiantes un equilibrio entre desarrollo socioemocional, académico y enriquecimiento para garantizar que los estudiantes tengan un entorno en el que puedan ampliar su aprendizaje. Los líderes del programa pondrán énfasis en el enriquecimiento virtual, el desarrollo socioemocional, la alfabetización, las matemáticas, las habilidades de estudio y la finalización de las tareas. IMPORTANTE: Para que el programa se ofrezca en el campus de Hope, un mínimo de diecisiete (17) familias deben participar en el programa:
https://bit.ly/BeforeandAftercareProgramatHope
Haga clic aquí para enviar el pago en línea para el Programa de atención antes y después de la escuela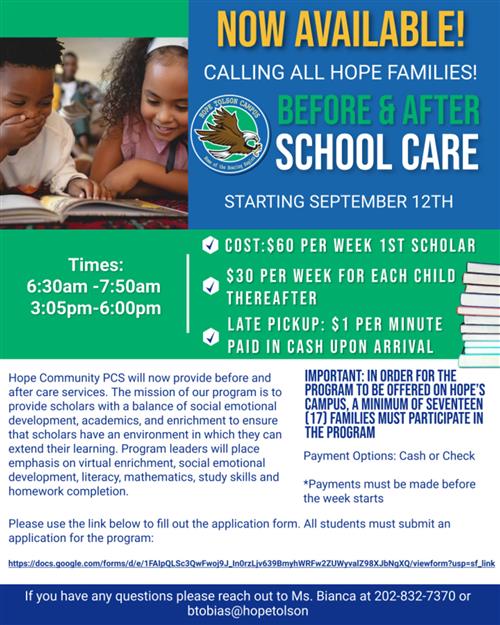 You're online. We're online. Let's connect.