Kids Care Elementary
Enter to Learn... Learn to Achieve!
Now Enrolling K-5 Families in Columbus
Return to Headlines
Spirit Week at Kids Care Elementary
Welcome to Spirit Week! 📣To celebrate homecoming, we have some fun-themed days from September 25th to September 29th for all KCE scholars, teachers, and staff to participate in!

⭐ Monday: Make yourself at home; come dressed in your lovely/favorite loungewear and or PJs

⭐ Tuesday: Games of "HOMES" - Wear a specific color by grade. K - Green, 1st - Blue, 2nd - Red, 3rd - Yellow, 4th - Black, 5th - Orange

⭐ Wednesday: When I Grow Up Wednesday. "Dress as your future self-career."

⭐ Thursday: Throwback Thursday 90s edition. Dress in the stylish attire of 90s fashion!

⭐ Friday: Dora and Diego Explorer Safari Day! Dress like a true KCE Explorer, and get ready to seek out an adventure on this fun-filled Friday.

Join in on the fun and showcase your school spirit! #KCEstrong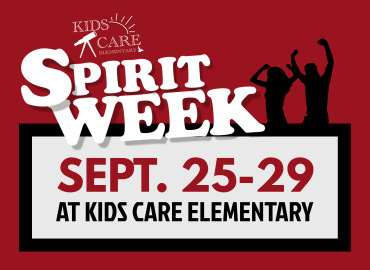 ESPAÑOL;
¡Bienvenidos a la Semana del Espíritu! 📣Para celebrar el regreso a casa "Homecomig", ¡tenemos algunos días temáticos divertidos del 25 al 29 de septiembre para que participen todos los alumnos, maestros y personal de KCE!

⭐ Lunes: Siéntete como en casa; Ven vestido con tu ropa encantadora/favorita de estar por casa o pijamas.

⭐ Martes: Juegos de "CASAS" - Viste un color específico por grado. K - Verde, 1.º - Azul, 2.º - Rojo, 3.º - Amarillo, 4.º - Negro, 5.º - Naranja

⭐ Miércoles: Miércoles de cuando sea mayor. "Vístete como tu futura carrera profesional".

⭐ Jueves: Edición Throwback Thursday de los 90. ¡Vístete con un atuendo de la moda de los 90!

⭐Viernes: ¡Día de Safari Explorador de Dora y Diego! Vístete como un verdadero explorador KCE y prepárate para buscar una aventura en este viernes lleno de diversión.

¡Únete a la diversión y muestra tu espíritu escolar!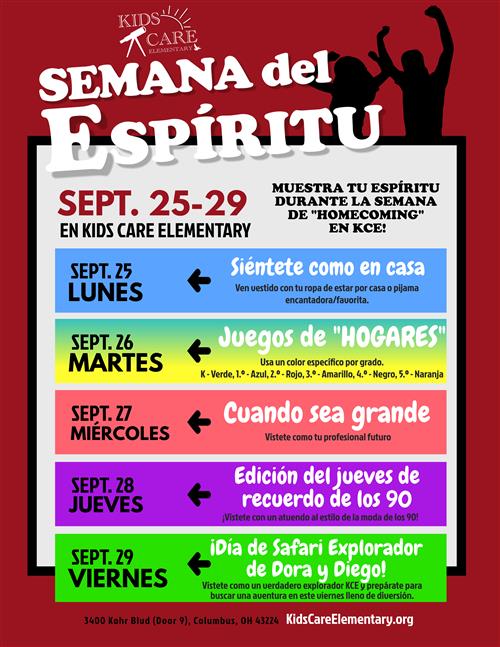 You're online. We're online. Let's connect.