Eagle's Nest Academy
Dedicated To Excellence In Education
Now Enrolling Families K-6 in Flint!
Return to Headlines
Soar High: Eagle's Nest Academy is Now Enrolling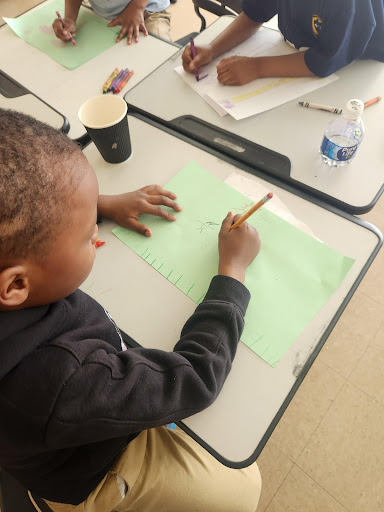 Soar High: Eagle's Nest Academy is Now Enrolling
ENA exposes scholars to a culturally relevant curriculum in a peaceful
environment, conducive to learning
(Flint, MI) – Enrollment is now open for the 2023-2024 school year at Eagle's Nest Academy (ENA), a tuition-free, public charter school serving grades K-6 in Flint, MI. ENA's vision is to create an environment of excellence for scholars in order to develop their maximum potential. ENA shapes scholars into model students, future professionals, and productive citizens in their community.
One of ENA's proudest accomplishments is the opportunity to give scholars a peaceful learning environment that promotes community responsibility. Scholars are empowered to make a positive impact in their community as well as develop character that serves as the foundation of their future.
For the 2023-24 school year, Eagle's Nest Academy will join the Phalen Leadership Academies (PLA) network, which includes schools across the country. The merger of these institutions aims to blaze a brighter trail for children and families in Flint by creating strong and collaborative academic programming for students, and expanding wrap-around services for Flint families and community members. Eagle's Nest is positioned to become one of the most multifaceted and transformative school networks in Michigan.
"We are very excited to have Eagle's Nest Academy join our PLA network," said PLA Founder & CEO, Earl Martin Phalen. "This new collaboration will provide Flint communities with the support and resources they need to set scholars up for success. PLA is dedicated to our scholars and the community and that will become even more evident through this partnership."
ENA's mission is to provide scholars with a quality education that prepares them to soar in four key areas: Academically, Socially, Artistically, and Physically. This is accomplished through the unique opportunities afforded to ENA scholars, including extended learning opportunities and student enrichment, a focus on active learning with student-centered staff, and 1:1 in-school technology.
ENA uses a culturally relevant and diverse curriculum, through the study of the Nguzo Saba (Kwanza) principals, to enable scholars to excel academically, while developing self-awareness and the ability to view themselves and people of color in a positive light at a young age.
"Our scholars learn about different cultures, as well as their own, in order to learn self awareness, self love, and the skills needed to view themselves in a positive light," said Principal DeNesha Rawls-Smith. "Throughout their time at ENA, scholars are fully immersed in this diverse curriculum while being taught by dedicated instructors in a peaceful classroom. We are excited to be a part of the PLA network and look forward to the resources and support provided through the partnership."
ENA regularly exposes scholars to a full day of enrichment opportunities offered through community partnerships, including visual and performing arts, social, emotional and physical health education, and visits to the newly renovated Flint Public Library, where they have access to its resources. Community partners include the Crim Foundation, who supports scholars with physical education and healthy eating information; Mott Community College, a provider of social and emotional health education; and Genesee Health Systems, a provider of health resources to scholars.
ENA also recognizes the importance of supporting scholars outside of the classroom, providing scholars with free, nutritious meals and free transportation. ENA also supports families of scholars with free job training through PLA University, which helps families secure better futures for their children.
Are you ready to invest in your scholar's success? Don't get stuck on the waitlist, enroll your scholar at ENA today by visiting EaglesNestFlint.org, where you can learn more about the ENA Family and its dedication to scholar's futures.
You're online. We're online. Let's connect.