Phalen Leadership Academies
A Transformative Leader in School Turnaround
Return to Headlines
Join Phalen Leadership Academies and the IMPD at PLA's First Annual Trunk-or-Treat
On Tuesday, October 30th Phalen Leadership Academies is partnering with the Indianapolis Metropolitan Police Department (IMPD) to host its first annual Trunk-or-Treat.
The event will be held at George and Veronica Phalen Leadership Academy [2323 N. Illinois Street] from 5:30pm-7:30pm and is open to the public. PLA CEO and Founder Earl Martin Phalen encourages Phalen scholars, parents, and community to attend.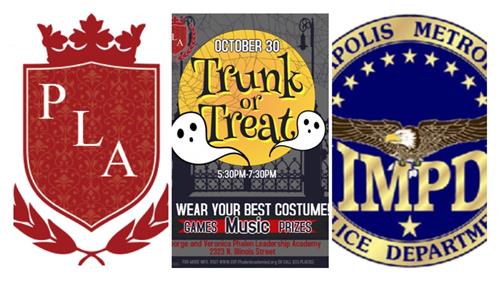 "Phalen Leadership Academies has 14 network schools across the country and four schools in Indianapolis," said Phalen. "In all of our schools we focus on providing beautiful safe spaces, and Indy is our home base. Our scholars are throughout the community here, and we are glad to host this event for our families and to extend the invitation to surrounding families as well."
The Indianapolis Metropolitan Police Department is also a part of the event reinforcing their commitment to growing community partnerships.
"Community building is extremely important for us," said Officer Kristi Allen of the Indianapolis Metropolitan Police Department. "The role we play in schools and being able to show up for our young people and show them what community looks like is very important. So, we are happy to be a part of this event, and we look forward to supporting community fellowship and seeing the kids and families have a great time."
During the event, families will have an opportunity to celebrate the fall and get some goodies.
Chompz food truck will be there. There will also be a bounce house, a DJ, face painting, and cotton candy. Everyone is encouraged to wear their best costume. Covering Kids and Families will also be on site to help register those who may need health coverage.
The event is free and open to the public.
You're online. We're online. Let's connect.