Phalen Leadership Academies
A Transformative Leader in School Turnaround
Return to Headlines
It's a New School Year and Jones-Clark Elementary and Smith Middle School Are On The Rise!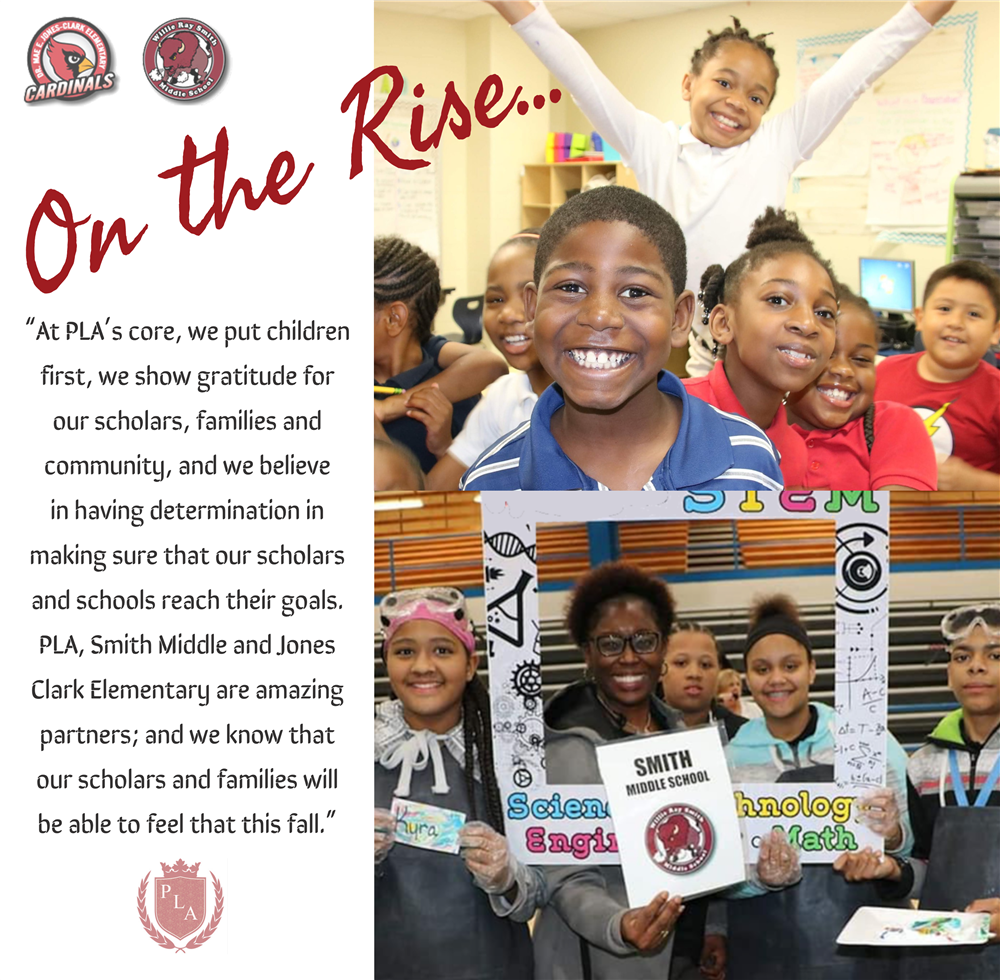 This year Jones-Clark Elementary School and Smith Middle School launch their partnership with Phalen Leadership Academies (PLA), a collaboration that is giving the schools a fresh start with new exciting programming, new leadership, and an even deeper focus on scholar success.
"We are extremely excited to begin this year with the scholars, families and staff of Jones-Clark Elementary and Smith Middle schools," said PLA Founder and CEO, Earl Martin Phalen. "We have a passion for our children. We are very serious about preparing our scholars for the future, making sure they are in a loving, safe and productive learning environment, and setting them up for success. We are grateful to the staff and parents who are kicking this year off with us. It is going to be an excellent school year, and we all have a lot to look forward to."
Families returning to Jones-Clark Elementary and Smith Middle schools can expect an array of curriculum and schedule enhancements that will help support scholar achievement. There will also be increased efforts to further enhance each school's climate and culture; communications; and parental and community engagement.
At Jones-Clark, scholars will have greater exposure to technology with new courses and integration starting as early as kindergarten. Scholars will also be welcomed back to more enrichment opportunities, clubs, and activities to help develop the whole child. At Smith Middle School, scholars will have more growth opportunities this year with Theatre Arts, more library time and a new focus on STEM (science, technology, engineering and math) to better prepare them for 21st century careers.
Both school's leadership have expressed their excitement about the new school year and everything to come.
"Jones Clark Cardinals are preparing to S.O.A.R.," said Jones-Clark Principal, Ms. Stephanie Hayes. "We are committed to working hard for our scholars. Without fail, our scholars are entering a stronger arena for success. We are ready for greatness. We are Cardinal proud."
PLA's Regional Director, Alain Frankiewicz said, "At PLA's core, we put children first, we show gratitude for our scholars, families and community, and we believe in having determination in making sure that our scholars and schools reach their goals. PLA, Smith Middle and Jones Clark Elementary are amazing partners; and we know that our scholars and families will be able to feel that this fall."
To keep up with the transformations with PLA at Jones-Clark and Smith Middle and to view leader bios, be sure to visit each schools' websites. Also, please join us for the upcoming parent and community events below:
Save the Date:
Mae Jones-Clark Elementary
August 10 ® Cardinal Comeback 9am-1pm
August 13 ® Meet the Teacher
August 27 ® Coffee and Chat with the Principal
Willie Ray Smith Middle School
August 2 ®Community Volunteer Sign-up & Cookout
You're online. We're online. Let's connect.