Phalen Leadership Academies
A Transformative Leader in School Turnaround
Return to Headlines
Phalen Leadership Academies Announce National Hiring Recruitment Efforts
Phalen Leadership Academies, a K-12 tuition-free school network with 22 schools across the country, announced today that the organization will be hiring hundreds of positions across the nation this year. PLA is seeking high-quality candidates to fill roles as teachers, assistant principals, specialists, support staff, and administrators in multiple schools located all over the United States.
"If you are an educator with a strong belief in helping all children succeed and are willing to commit to every child receiving a high-quality education, we would like to invite you to apply to join our team," said National Director of Recruitment, Amber Deckard.
Phalen Leadership Academies is a leading school turnaround operator with a network of high-quality, tuition-free public and charter schools across the nation. PLA currently serves nearly 10,000 scholars in 22 schools in Ohio, Indiana, Texas, Michigan, and Florida.
"We believe that our scholars have the ability to be the best of the best; but it is up to us as adults to support them, to nurture their learning, to challenge them and help them to grow and excel," said PLA's Founder and CEO, Earl Martin. "When you invest in scholars and create great schools and great opportunities, it changes generations."
Employees of PLA are offered several benefits and incentives, including competitive compensation and benefits, student loan forgiveness and support, a strong professional development program, the ability to leverage integrated technology in the classroom, appreciation and recognition year-round and opportunities to earn additional income.
Qualified candidates can apply to available positions at PhalenAcademies.org/Careers or connect with a recruiter at TeachPLA.PhalenAcademies.org.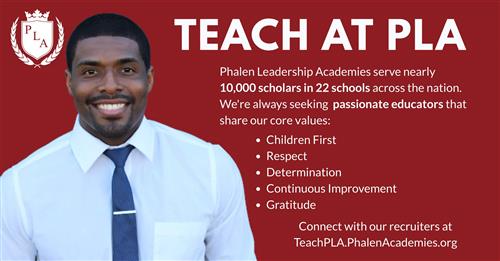 You're online. We're online. Let's connect.