Phalen Leadership Academies
Your Partner in Creating Great Schools
Return to Headlines
PLA University Announces Its 2021 Training Start Dates, Expanding Free Job Training in Health and Information Technology
PLA University Announces Its 2021 Training Start Dates, Expanding Free Job Training in Health and Information Technology
Indianapolis, IN - Phalen Leadership Academies is honored to announce the official launch of the upcoming 2021 cohort of PLA University, a tuition-free job training program for the adult family members of current PLA scholars.
Last year's cohort launched with Health & Life Sciences training. The new cohort, beginning August 23rd, expands training to include Information Technology (IT). PLA families can now apply for training to become: IT Support Professionals, Forklift Operators, Certified Nursing Assistants, Veterinary Assistants, Pharmacy Technicians, Medical Billers and Coders, or Medical Assistants.
"We are excited to expand the offerings of PLA University to bring more training options and training partners for PLA families," said PLA University Executive Director, James Swift. "We have been bolstered by the support of local businesses and institutions such as the Launch Hope Foundation, the Hardon Educational Institute and Penn Foster College. These partners are helping us to lay a strong foundation as we work to help our families secure jobs with competitive salaries and long range potential."
Created in the wake of the murder of George Floyd to foster self-sufficiency and economic parity, PLA University is among the first career training institutions of its kind as it seeks to improve the outcomes of both PLA scholars and families. The program works to teach families life skills, provides certification training and job placement. The program is located at James and Rosemary Phalen Leadership Academy on Indianapolis's Far Eastside.
The next PLA University cohort begins August 23rd. For more information or to apply to join this PLA Universitycohort, please visit PLAUniversity.org and apply or contact info@plauniversity.org.
About Phalen Leadership Academies Phalen Leadership Academies is a transformative leader in school turnaround with the primary mission to improve the lives of children through education. PLA serves over 10,000 scholars in over 25 schools across the country.
About PLA University PLA University is a free job training program designed exclusively for PLA families. This program is designed to help families learn more so that they can earn more. PLA University offers free training in four tracks: Technology, Advanced Manufacturing, Supply Chain and Logistics, and Health & Life Sciences.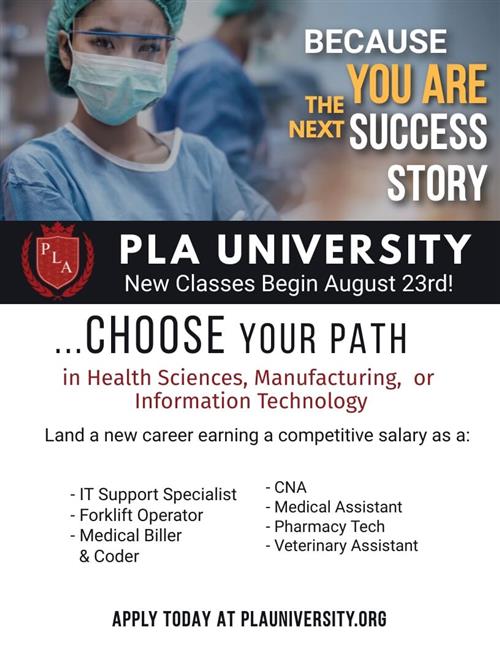 You're online. We're online. Let's connect.