Thea Bowman Leadership Academies
Enriching Scholars Grades K-12
Return to Headlines
Congratulations! Thea Bowman Middle and High School Scholars Win Big at Rainbow PUSH's Oratorical Competition
Thea Bowman Leadership Academy scholars recently competed in an oratorical competition hosted at the Rainbow PUSH Coalition Headquarters in Chicago. Scholars grades 7-12 competed against students from Detroit and the Chicagoland area. They took home first place, second place, and honorable mention.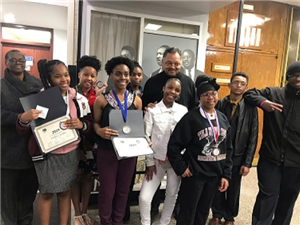 "We are extremely proud of how well our scholars perform and take the skills that they learn here at school and apply them," said TBLA school leadership. "They worked very hard and then went on to represent our school and the Gary community very well. At Thea Bowman, we are focused on helping our scholars fulfill their tremendous innate potential. It took great courage for our scholars to speak at a tournament in front of some of the best speakers we've heard and win. We're extremely proud, and we look forward to what they might accomplish next."
The theme was, "Let Us Run!" The competition was designed to focus young people on the power of eloquent persuasive speech. In the 7th- 8th grade category, Laniya Mabon won second place ($75), Paris Lawson won third place ($50), and Diamond Jackson earned honorable mention ($10). In 9th-12th grade category, Dasiera Lee and Rihanna Lee tied first place ($100), and Jamel Miller earned third place ($50).
The competition highlighted three essential components of future leaders in communities across America: (1) a strong moral compass, (2) excellence in education and (3) sound communication skills. Scholars were required to conceptualize, prepare and deliver a memorized speech as an essential component to becoming future leaders.
Scholars learned the three components of persuasive speech under the guidance of our TBLA Social Worker and Push Excel Coach, Ms. Virni Webb.
Congratulations Thea Bowman Scholars! Keep Soaring.
You're online. We're online. Let's connect.