Thea Bowman Leadership Academies
Enriching Scholars Grades K-12
Return to Headlines
Vote Today to Help Gary Scholar Enter the High School Dunkers and Shooters Competition During Final Four Weekend.
With the community's support, one Thea Bowman Leadership Academy scholar and athlete, could win a trip to compete in the American Family Insurance High School Slam Dunk and 3-Point Championship 2020, the nation's best high school dunkers and shooters competing during Final Four weekend.
Senior Guard Jacques Williams went from being featured on Sports Center to being invited to compete for entry in the Final Four Dunk Contest. Community members will be asked to cast their vote at Amfam.com/fanvote starting on February 11th at noon (CST) to secure his place in the competition.
"The dunk contest will feature 16 of the best high school dunkers from across the country and we are excited to support and cheer on our very own to the top!" said Thea Bowman Leadership Academy Athletic Director, Arthur Haggard.
Dunkers are selected based on the number of votes they receive online. Friends, family, classmates, teachers and the community are invited to cast their vote daily in support of Jacques. The fan-voting will include four rounds. Round 1 of voting begins February 11 at 12 pm CST through February 18th!
The athlete with the most votes in each bracket matchup will move on to the next round. The player that receives the most votes in the final round will be selected to compete in the American Family Insurance High School Slam Dunk & 3-Point Championships.
Fans can vote daily for Jacques. One vote per device per day will be counted towards getting Jacques to the championship. Two winners will be announced on March 13th.
To vote for Jacques, visit Amfam.com/fanvote
Voting dates and rounds:
ROUND ONE: Feb 11- Feb 18
ROUND TWO: Feb 19- Feb 26
ROUND THREE: Feb 27- March 5
ROUND FOUR: March 6 – March 13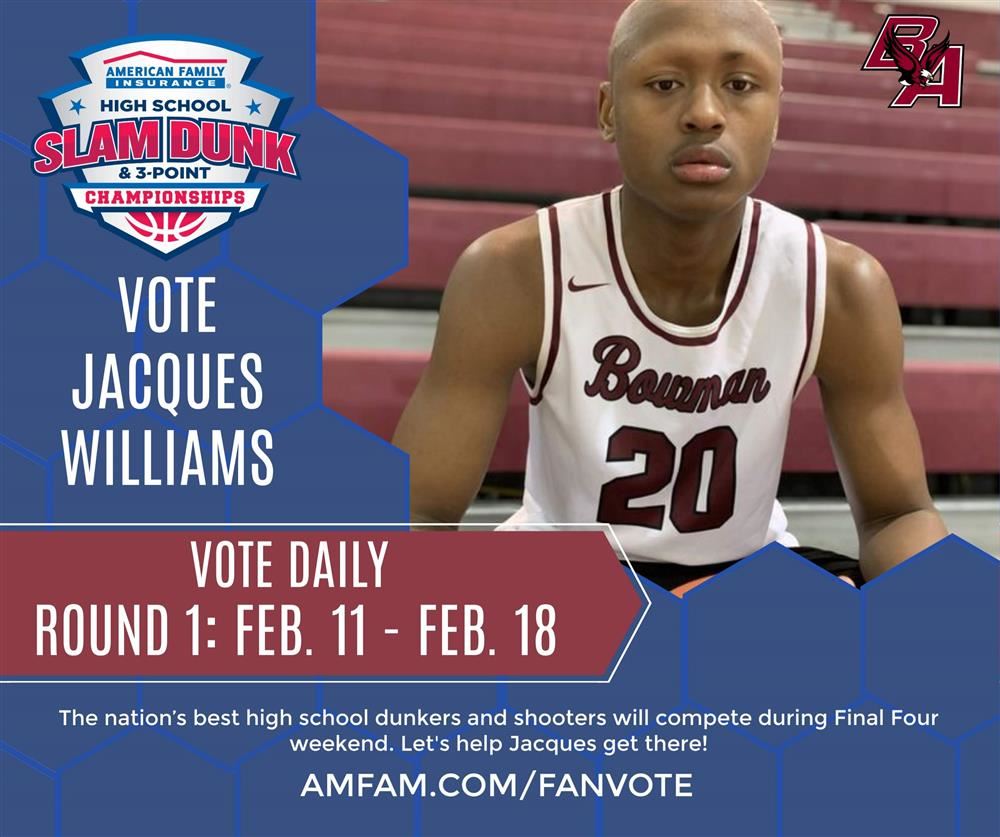 You're online. We're online. Let's connect.