James and Rosemary Phalen Leadership Academy
an A-Rated School Offering Grades 7-11
A-Rated School Now Enrolling Grades 7-12
Return to Headlines
eLearning Help Desk is Now Available!
We are excited to announce that our eLearning Help Desk is now available! We know that remote learning comes with its challenges, and we are here to help! Parents and scholars can chat with a live help desk agent Monday - Friday, 8 am - 8 pm EST.
PLA help desk personnel can be reached by scrolling toward the bottom of our eLearning page or by visiting the Help Center at https://helpdesk.phalenacademies.org/knowledge. Agents are available via live chat or email. Starting Tuesday, May 26th, help desk agents will also be available by phone.
Families can simply click on the chat bubble icon at the bottom right of our eLearning page to chat and get assistance resolving any issues you may have while accessing our online learning platform. Families can also email the Help Desk for assistance at helpdesk.phalenacademies.org.
Agents, who are also school and IT personnel, are here to support families on everything from device troubleshooting to connecting with teachers and school leaders for additional online learning support.
For more information visit PhalenAcademies.org/eLearning, email helpdesk@phalenacademies.org or call 888.655.0777
PhalenAcademies.org/eLearning or email helpdesk@phalenacademies.org.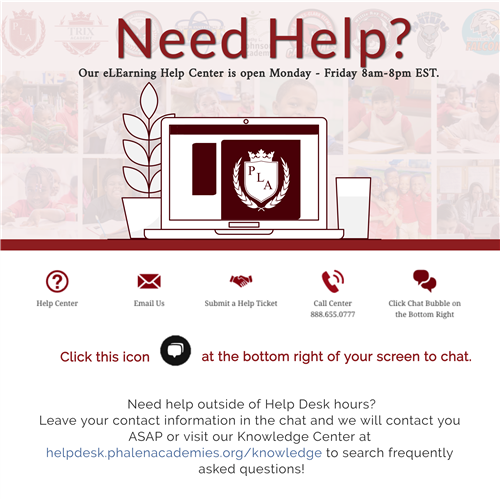 You're online. We're online. Let's connect.