Hope Community Public Charter School
Now Enrolling Grades PK-8th
Now Enrolling PK-8 Families in DC
Return to Headlines
Hope Community Public Charter School Launches New STEAM Program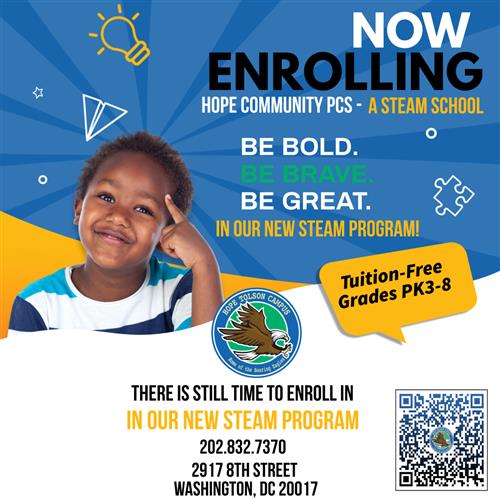 Immediate Release: March 13, 2023
Contact: Principal Clifford Owens
(Washington, DC) - Local charter school, Hope Community Public Charter School, in northeast DC plans to bring a new level of innovation, opportunity, and global awareness to students in the District of Columbia. The school, which serves Pre-K - 8th grade, will be the only STEAM (Science, Technology, Engineering, the Arts and Mathematics) program in the District. The mission of the program is to provide students with more diverse content to which they often have very limited access. The program goal is to help create generations of thought leaders, equipped with the knowledge, skill, and care to address the local and global issues that are impacting the world in which they live.
Hope PCS has plans to expose local students to the knowledge and opportunities that a STEAM education can offer. "With the ever-changing landscape of the world, it is more important than ever for students to be equipped with the skills they need to succeed", says Hope Community PCS Principal Dr. Clifford Owens. Dr. Owens also believes that "this type of learning helps children develop critical thinking skills through activities that often incorporate teamwork and collaboration; teaching scholars the importance of working together to achieve a common goal." Students at Hope are already taking this on– they have been working with students in Ghana to help source clean water; a major goal for much of the world. Sustainability, also a global issue — will require thought leaders that bring innovation and creative thinking across multiple areas. The new STEAM program is a major step in the right direction in preparing those thought leaders.
Throughout the program, students from Pre-K to middle school will meet milestones along the way. Middle school students will complete and present final projects before moving on to high school. The final projects and presentations will require students to demonstrate acquired skills in:
Engineering
Collaboration and Team Building
Increased Understanding of the Scientific Process
Global Awareness
Real-World Application of Mathematics
Research including schools that have a STEAM-based curricula, has indicated a tendency to build engagement, especially amongst minority and economically disadvantaged students, and improved test scores in both reading and math.
Participation in the program and exposure to STEAM related content is to begin as early as Pre-K!
For more information regarding the new STEAM program or to enroll, contact either btobias@hopetolson.org or cowens@hopetolson.org.
You're online. We're online. Let's connect.